Contents

Click on the item to go to the article.

Editorial Comment

Apologies for the delay in getting the February edition on the streets. A major computer crash was the cause. Happily everything is now running very well on a new super-charged motherboard.

John and Pauline continue their campaign to single–handedly re–decorate the Centre. There have nearly done the Men's facilities now!.

We have a full edition this month and I would like to thank Jack Pope and the other contributors for their input.

If you have a news item or event you would like to share in the next newsletter, please send your contribution via email to editor@paxcroftmead.org.uk or post it to, or drop it in to:-
The Editor, Paxcroft Mead Community Centre, Hackett Place, Trowbridge, BA14 7GW.

To ensure we have the largest possible distribution, please would you forward this newsletter on to friends and neighbours and encourage them sign up to the emailing list via our website - http://www.paxcroftmead.org.uk/contact_form.htm
---
Paxcroft Mead News
Many residents will be aware that back in 2005, outline planning permission was given to Persimmon Homes to build 550 new houses on land south of Green Lane. As part of the legal agreement associated with this permission, Persimmon were to contruct a new road over Hilperton Gap as well as extending Leapgate over Green Lane to join up with West Ashton Road. A new primary school, social housing and community facilities were also part of the agreement. At the time, a local lobby group persuaded the Council that steps should be taken to mitigate the effects of the extended Leapgate and the new development.
Recently Persimmon applied to WWDC to build a further 100 houses on the site. Last Thursday, 26th February, the WWDC gave consent to vary the original outline planning permission.
It has also come to light that there are proposals afoot to build another new road from the point where the extended Leapgate joins the West Ashton Road going south to join a the A350/A363 near Yarnbrook. A new secondary school and primary school are proposed as part of these plans. This does mean there is a real possibility of lorries using Leapgate to travel south towards Westbury and the West Wiltshire Trading Estate or north to reach the Canal Road Trading Estate and beyond.
---
Trowbridge achieves Fairtrade Status

After a year of dedicated campaigning, Trowbridge, Wiltshire's County Town, has been awarded Fairtrade Town Status.
"It is absolutely fantastic to have achieved Fairtrade Status so quickly" says Cllr John Knight, Mayor of Trowbridge and Chair of the Steering Group. "It is a testament to the support we have received from all sections of the community."
The remaining event planned to publicise Fairtrade in the Town will be an Easter Chocolate Hunt, to be held in the Sensory Garden on Saturday 11th April (10am – 12noon)

"We are here to stay" says Peter Barnett, Secretary of the Trowbridge Fairtrade Steering Group. "We would like to thank all those people in the Town who have helped us to achieve this important award. We hope to continue to raise the profile of Fairtrade locally and the way it helps producers in the developing world."
Brendan Wall, Head of St Augustine's College sends his congratulations to Trowbridge on achieving Fairtrade Town status saying, "The College fully supports the campaign to promote Fairtrade".
The Steering group needed to be able to demonstrate wide support across the town. Committee member, Councillor Steve Oldrieve said, "We would like to say a big thank you to all those organisations that have supported us and look forward to having the opportunity to celebrate this achievement for the town with them".
The presentation of the Fairtrade Town certificate will take place at the Town Gathering in the Civic Hall on Tuesday 7th April starting at 6.00pm.
N.B. The directory is available on the Paxcroft Mead website. Click here to view or download the directory.
With the snow melting a few weeks back, the problems with flooding in parts of Paxcroft Mead have been highlighted once again. In Cornbrash Rise it was bad enough for fire engines to be called in the middle of the night, when the badly maintained ditches on Green Lane couldn't hold the water and it flooded into gardens. Other residents have also reported gardens flooding in times of heavy or prolonged rainfall. It is thought many of the problems can be blamed on poor maintenance of ditches, as well as poor planning. Residents of Green Lane have said that the fields where Cornbrash Rise was built were always flooding.
Local Councillors, Trevor Carbin and Steve Oldrieve have asked the West Wiltshire District Council to investigate, but they would like to hear from Paxcroft Mead residents who have experienced problems, or who would like further information to contact them.
Trevor Carbin can be reached via telephone on 762032 or email at cllrtcarbin@westwiltshire.gov.uk. Steve Oldrieve can be contacted by telephone on 766038 or email at steveoldrieve@wiltshire.gov.uk.
---
New this Easter……a church for Paxcroft Mead!
The parish church of St. Thomas is excited to announce that a 10 year dream is about to be fulfilled and that from Easter 2009 there will be a "church plant" on Paxcroft Mead. Services (including children's activities) will begin at the Mead School on Easter Sunday, 12th April and will then be held every Sunday in the Mead Community Primary School.
However, Church is about more than services, and our desire is to become a source of friendship, hope and healing for our community. We will also meet as small groups around the Mead and, over time, hope to be able to offer other groups and activities to serve the community.
The Mead church will be under the overall leadership of Rev. Allan Coutts, Vicar of St. Thomas' and will be led on the ground by Mark and Alison Bennett (Paxcroft Mead Residents).
If you would like to know more, feel free to contact either the Church office on 01225 754826, or E-Mail the office at office@stthomastrowbridge.org or Alison Bennett at Alison@flyhighercoaching.co.uk
---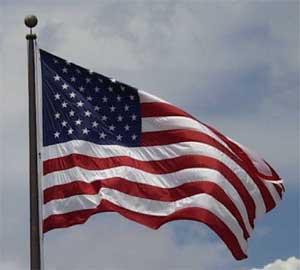 Another month has gone by and here I am back again. The big news is that we have an economic stimulus – $787 billion. The Democrats passed this package with no votes by Republicans in the House of Representatives and only 3 Republican votes in the Senate. Those in favor claim the stimulus is just what is needed to get the economy going again and those opposed say it won't work and there should be more tax cuts and less spending. Time will tell. I think a big help would be if the media stopped continually telling everyone how bad things are – we all know that times are tough – and report some good news for a change.
Winter continues. We did have our January thaw but not until February. Temperatures reached 50°F (10°C) and a lot of snow melted. As I write this we are in the midst of a Lake Effect storm. We received about 12 inches of snow overnight and it is still snowing. Winter will last until the end of March and maybe on into April.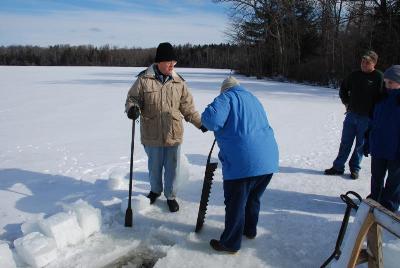 Susan and I visited Beaver Lake Nature Center last week for a demonstration of ice harvesting from the frozen lake. Before the days of electric refrigerators blocks of ice were cut from the frozen lake and stored in an ice house insulated with sawdust. Every few days the ice man would bring a block of ice and put in your ice box – for a fee of course. I never actually harvested ice, but when I worked at a summer resort as a teenager, it was my job to fetch a block of ice from the ice house and bring it to the kitchen every morning. The photo is Susan cutting the ice.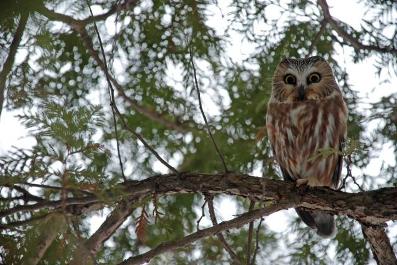 I am enjoying lots of winter photography at Beaver Lake. The forest is beautiful with the snow. I also get lots of pictures of deer and birds. Recently I was lucky to get a photo of a saw–whet owl which is a small owl – about 8 inches tall. Here is its picture. That's all for now.
Best wishes to all in Paxcroft Mead.
---
For some time the amount of rubbish has been dropped around the turning circle at the end of Leap Gate as well as other areas. Although the problem in general isn't too bad, I was horrified the other day to see that someone has dumped 2 black sacks full of rubbish in the bushes near the end of Leapgate – where the footpath/cycle path begins. Obviously they are now being "attacked" by wildlife and I don't think it will be too long before the contents are scattered about.
If other people see this, do you think it will send out the message that it's O.K. to dump rubbish there? I do feel strongly about this. It must have been dumped from a car, so why couldn't they have simply taken it to the re–cycling centre?
Note from the Editor: I have spoken with the Neighbourhood Police about this. This is the local authority's responsibility. To report a problem with fly tipping, then please contact WWDC by telephone on 01225 776655 (8.30am to 5.30pm Monday-Thursday, 8.30am to 5pm Friday)or by email customerservices@westwiltshire.gov.uk
When reporting fly tipping, please provide as much information as possible, including:
Location of the incident.
Description of the material – whether it is household waste such as furniture, fridges, washing machines, beds etc; garden waste, such as hedge cuttings; or building material, such as blocks, rubble, bricks etc.
An estimation of the volume – for example, is the amount of rubbish more or less than the size of an average household fridge?
Whether the material appears to be hazardous – this could include gas bottles and cylinders, drums and metal containers with labels indicating potentially dangerous contents, or asbestos. Under no circumstances should you put yourself at risk by inspecting fly tipping.
Any information that could help to identify the person responsible for the fly tipping – for example, vehicle registration.
---
As an assignment for his Computing foundation degree, Stuart Jales, a Paxcroft Mead resident is carrying out a survey on Internet usage.
Stuart would be very grateful if you could respond to his survey. For convenience, the survey is online and can be viewed here. If anyone wishes to know more or comment on the survey they can contact Stuart on this email address by clicking here.
---

We are currently looking for volunteers to help in our friendly, happy school. We are interested in people who could offer a few hours a week on a regular basis to help the children with their basic literacy and numeracy skills. We would also like a volunteer to help in our school library for 2-3 hours per week. Duties will include checking books in and out and generally keeping the library looking spick and span!

N.B. All volunteers will need to undergo a CRB check.
If you are interested in any of these roles and would like to come for a visit, please speak to the office on 01225 759273.
---
Forthcoming Events
Lackham Lambing Weekends 2009
The annual family lambing event at Wiltshire College Lackham will be held on two weekends this year – March 14th/15th and March 21st/22nd. The event is a wonderful opportunity for children and adults to see newborn lambs and many will have the chance to witness sheep actually giving birth.
The events run from 10am – 5pm on both weekends with last admission at 4pm. Prices are £15 per car or £5 per adult, £3 per child. For more details phone 01249 466800.
Visitors are advised to wear suitable footwear and clothing for an outdoor experience.
Other attractions on offer include free tractor and trailer rides, a bouncy castle, an inflatable assault course, a vintage toy set roundabout and plant sales, as well as Lackham beef rolls, ice cream and sweet stalls and other food and refreshments.
---

St Patricks celebration
On Saturday 14th March at 7.30 PM - St Patricks Night featuring traditional Irish music from Brand of Fire. Admission prices to be confirmed.

Mead Club Rugby Specials
The club will open about 30 minutes before the start of all the games below. The fixtures list is as follows:–


| | | |
| --- | --- | --- |
| Date | Time | Teams |
| 15/03/09 | 15:00 | England vs France |
| 21/03/09 | 15:30 | England vs Scotland |
| 21/03/09 | 17:30 | Wales vs Ireland |
---
St James Players Holy Week Play
The Easter Play is especially written and entitled 'The Journey to the Cross'. The play will be performed by the St James Players on Tuesday 7th Wednesday 8th and Good Friday 10th April at 8 pm in the Church. Written by one of our retired Priests, Reverend Peter English, it is usually a different way of looking at the Easter Story, very moving and thought provoking. At the time of going to press, we understand there will a retiring collection rather than and entrance fee.
---
After more than 20 years, the Rector of St James's, Christopher Brown, is leaving this April. There is a special farewell concert being put on at the Civic Hall on Saturday, 25th April. Tickets are available from the Tourist Information Centre (in Trowbridge Park), from Howard Travel, Pitts, silver street,. Dorothy House Hospice Shop. The Cardiff Arms Male Choir are performing together with Rhiannon Lambert, Classic FM's most promising newcomer, and a choir from Bellefield School. Tickets £7.50 adults and children £1.
---
The Mead Primary School SUMMER BALL is to be held on Friday 19th June 2009 – 7.00pm for 7.30pm start. For full details, please click here to view or download the poster. For further information, contact the school office on 01225 759273.
---
Quiet Corner
St. James Church, Trowbridge Town Centre
The Parish Church of St James in the Town Centre is open every morning, including Saturdays, for coffee and quiet prayer. In addition, on Wednesdays the Church is open from 12 noon until 2 pm for anyone who wants to pray for themselves, relatives or sick friends. A trained lay prayer minister is also available at this time if the visitor would like prayers said for them, by someone else. The Church is worth a visit because of the beautiful ornate ceiling which was carefully renovated to its original condition after the dramas of the fire and the spire collapse in the late 80's and early 90's. There is also a model of the Church on site, showing how the Church looked before the two catastrophes mentioned above.
Leading up to Easter, we have a series of Lent Lunchtime talks starting on Friday 27th February and continuing for the 5 following Fridays of Lent. The talks start at 12.15, and it is suggested that people might like to bring a packed lunch to have communally after each talk. The title of the talks this year is 'Wise Words' and the speakers will be the Ministry Team at St James when they will talk on their favourite Biblical text and what it means to them personally.
---
If you know of any events that would be of interest to the community, please drop me an email to – editor@paxcroftmead.org.uk.
Previous newsletters are available via the Paxcroft Mead Newsletter archive. To access the archive click here
---
| | |
| --- | --- |
| ©2009 Paxcroft Community Centre | |
| Registered Charity Number 1123423 | |
---