Contents

Click on the item to go to the article.

Editorial Comment

A mixed bag this month. I am especially pleased to include the first of Jack Pope's Letters from America. Jack, who recently returned to the USA from Paxcroft Mead, has kindly agreed to provide us with a series of commentaries about life in the USA.

For young people we have featured a number of events from a series of craft workshops and photograpic competition organised by Trowbridge Museum to the Youth Council's Beach Party

If you have a news story or event you would like to share in the next newsletter, please send your contribution via email to editor@paxcroftmead.org.uk or post it to, or drop it in to:-
The Editor, Paxcroft Mead Community Centre, Hackett Place, Trowbridge, BA14 7GW.

To ensure we have the largest possible distribution, please would you forward this newsletter on to friends and neighbours and encourage them sign up to the emailing list via our website - http://www.paxcroftmead.org.uk/contact_form.htm
---
Jack Pope's Letter from America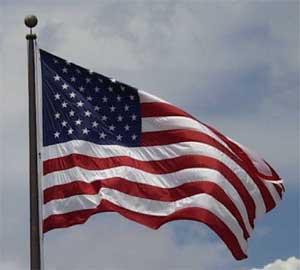 It has been just about four months since my wife, Susan, and I left Paxcroft Mead and Trowbridge. We lived in Corbin Road for just over seven and one half years. We were sad to leave but for financial and family reasons it was necessary for me to return to the United States to live. Fortunately, Susan loves America and was very willing to emigrate.
We are amazed at what we have been able to accomplish in the short time we have been here. We located the house that was to become our new home in Hannibal, New York State, near the City of Oswego on the south–east shore of Lake Ontario. People warned us that we were relocating to "Snow Country" (last winter this area had about eight feet of snow) but that doesn't bother us. We moved into our new home on 23rd June. We have furnished the house, bought two vehicles, joined the library and located a hairdresser for Susan and a barber for me. My new barber is also the local Christmas tree farmer and the county legislator and, of course, with the presidential election happening in November, that's what everyone is talking about, especially at the barber's shop. I'll write more about that next time.
Hannibal itself is a small village of about 600 people and the surrounding township has a population of about 4,300. We are looking forward to becoming as much a part of this community as we were at Paxcroft Mead and Trowbridge. Other than our friends, one of the things I miss most is my involvement with the Paxcroft Mead Community Centre. I served as treasurer and a member of the management committee for about four years. The satisfaction I received from this greatly exceeded the effort I put in. The Centre had and still has a great management team that works very hard to continue to provide an excellent community asset.
I urge everyone to give them your support and to consider becoming actively involved with the committee. I guarantee you will not regret it.
---
Paxcroft Mead News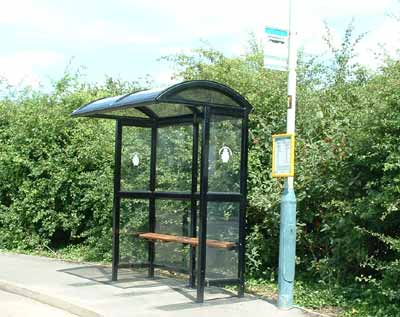 A couple of editions ago I reported that we were to expect a new bus shelter to be erected on the turning circle at the Green Lane end of Leapgate. Over the last few weeks the shelter has been completed and is ready for use.
Once again, our thanks go out to local resident, Reverend Des Whale and local County Councillor, Steve Oldrieve who campaigned for the provision and funding of the shelter.
---
Well, after my piece in the last newsletter, a different planning application for 150 houses on land between Larkrise School and Paxcroft Mead that was originally rejected in October 2007 by West Wiltshire Council's Planning Committee went to appeal. The Planning Inspector, Paul Griffiths who heard the appeal, found in favour of the developer saying that he felt fears of increased traffic from the extra houses on estate roads were unfounded.
One result of this decision may well be that the "dead end" footpath going in the direction of Trowbridge Town might be completed as part of this development
---
As a result of the state of the housing market, Persimmon Homes and other housing developers are cutting back on new developments. For Paxcroft Mead, this looks like it could further delay commencement of works on the land south of Green Lane along with the extension of Leapgate across Green Lane. Ernie Clark, one of our local Councillors comments, "On a very personal view, I would be surprised if anything happens over the next two years".
---
Jackie and George tie the knot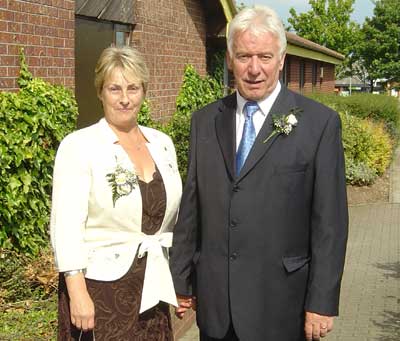 Paxcroft Mead residents and Mead Club members, Jackie Farr and George Dowd were married in Gretna Green on June 6th.
Jackie and George, who have been together for six years, secretly left their home in Stokehill for the infamous Scottish town to have their marriage witnessed by Ellen and Gary, a couple who just happened to be passing.
The newlyweds spent their honeymoon in Athens and on the Greek Islands.
Our congratulations and best wishes to you both


---
Most years, in the Summer and over Christmas, the roads across Salisbury Plain normally shut to the public are opened up. This summer, the roads from Warminster to Gore Cross via Imber, and from Bratton to Heytesbury via Imber, will be open to the public from 12 noon on Friday 1st August until 6pm Sunday 17th August. Unfortunately Imber village itself will not be liberated this year, so members of the public need to keep on the roads.
---
Neighbourhood Police Team
There don't appear to be any changes to the priorities of our local Neighbourhood Police Team The three main priorities remain as listed below:
ANTI-SOCIAL BEHAVIOUR - BROADCLOTH LANE/BISS MEAD
ANTI-SOCIAL BEHAVIOUR - MARSHMEAD, HILPERTON
PARKING/OBSTRUCTION - FERRIS WAY/WALMSLEY CHASE
The Neighbourhood Police Team are expected to hold further public surgery sessions at the Paxcroft Mead Community Centre Meeting room. Dates will be published on the PMCC website as soon as we get them. These sessions are held to provide residents with the opportunity to come along to report and talk over any crime issues.
The next session will be announced on our website – Click http://www.paxcroftmead.org.uk for details.>
---
User Group Focus
IMPAX Youth Club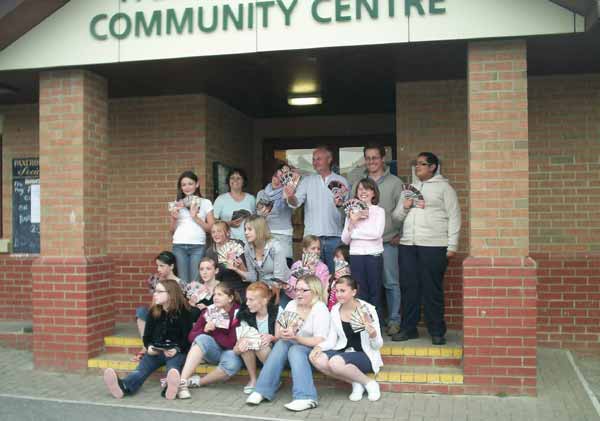 Impax members with their Fun Day Promotion Cards
Once again, the Impax Youth group which meets at the Community Centre, is organising a Family Fun Day in Trowbridge Park next Thursday 31st July. This event has been organised as part of a summer project, with the day also being supported by the Christian Action for Trowbridge Area (CATA)
The activities start at 2pm with live music, face painting a variety a inflatables, balloon modelling, a young children's play area, a barbecue and outdoor café. The climax of the event is an evening concert from 5.30pm - 7pm.
The Club is the local branch of Urban Saints (formerly known as The Crusaders) and meets during termtime at 7:30pm on Wednesday at Paxcroft Mead Community Centre, Hacket Place, Hilperton.
The group is very busy with many activities. More recently they spent a weekend at the Viney Hill Adventure Centre in the Forest of Dean. Activities included mountain biking, climbing, kayaking, caving, late night walks and forest bonfire.
The group also spent a weekend at Alton Towers participating in "The Ultimate Event". This was a massive youth event and included rides/live bands.
If you would like to join IMPAX, either come along on a Wednesday evening or give Adrian a call on 01225 760624
---
Forthcoming Events
Trowbridge Museum – Summer Holiday Activities
Art & Craft Activities at Trowbridge Museum

Summer 2008

We've got a busy summer ahead of us here at Trowbridge Museum, and we'd love you to be part of it.

There are some really exciting craft workshops taking place over the summer, all led by experienced artists and crafts people. August sees the return of the Festival of Textiles and Weaving, and lots of our activities are to do with fabric and textiles. We'll be printing on fabric, decorating eco-bags, making delicate decorative mobiles, creating trendy bandanas and making dangly birdies.

***If you aged 8 - 24 and interested in photography then don't miss our exciting new project***

All our workshops are FREE and they usually last about 40 minutes. There are three sessions in the morning, which start at 10.30, 11.10 and 11.50 and three in the afternoon starting at 1.30, 2.10 and 2.50. Entry is by ticket only, which you can collect on the day at 10am, for the morning workshops, and 1pm for the afternoon ones. These are issued on a first come first served basis.

The workshops should be suitable for children aged 4 and over, although we're happy to accept younger brothers and sisters, but they might need a bit of help – we try to keep things simple. Give us a call if you're not sure – 01225 751339.

Stylish Shoppers with Anne Poole

Are you a stylish shopper?

Wednesday 30th July - Stylish Shoppers with Anne Poole

We are decorating eco-bags again, but this time using fabric scraps, buttons and beads - how you design it, is up to you.

Cardboard Keepsakes with David Birks

Take one pile of scrap cardboard, scissors, glue, tape, add a dash of colour to decorate and see what you can make

Friday 1st August - Cardboard Keepsakes with David Birks

Make a practical and attractive keepsake box out of scrap cardboard - recycling at its most useful. This activity might be a little tricky for very young children so they'll need lots of help - be warned all you adults - you'll have to muck-in!

Brilliant Breezecatchers with Anne Poole

A brilliant breezecatcher

Thursday 7th August - Brilliant Breezecatchers with Anne Poole

We're making decorative mobile in this workshop - perfect for catching a cooling summer breeze. This is a nice and easy activity for children of all ages.

Crafty Comets with Andrew Frostick

Watch it zoom into the sky

Tuesday 12th August - Crafty Comets with Andrew Frostick

Fly high in the park or on the beach with an amazing high-flying comet. This is a really fun toy to make that's nice and simple - come along and have a go.

Fabric Frogs with Jane Eaton

Wednesday 13th August - Fabric Frogs with Jane Eaton

Create an exotic tropical picture of a frog in this fascinating workshop. We're going to be printing pictures of frogs onto special fabric using just the power of the sun.

Blazing Bandanas with Andrew Frostick

Tuesday 19th August - Blazing Bandanas with Andrew Frostick

Come along and make a super-cool bandana and be the trendiest person in Trowbridge. What are you going to put on yours?

How about smileys, skull and crossbones, some pretty flowers, hearts (aaah) - whatever you choose it'll be unique

Bouncing Birdies with Margaret Howard

The birdy has button plumage and dangly bead feet

Wednesday 27th August - Bouncing Birdies with Margaret Howard.

Make an amusing bouncy birdy out of felt, buttons and beads. This activity involves a bit of sewing so it might be tricky for little children.

Big-up The Bag (2) with David Birks

What design will you put on yours?

Thursday 28th August - Big-up The Bag (2) with David Birks

If you missed it the first time here's another chance to decorate an eco-bag with paints, pens and pastels. The only thing you need to bring with you is your imagination.

"You Are Where You Live" - Trowbridge Photography Project

CALLING ALL BUDDING PHOTOGRAPHERS

"You Are Where You Live"
Trowbridge Museum Photography Project

Are you aged
between 8 - 24?

Do you live
in Trowbridge?


If so then we want you to take part in a new and unique photography project - "You Are Where You Live" - which will launch Trowbridge's contribution to the 2012 Games.

We want you to record, in photographs, what Trowbridge means to you. The pictures that you take will then be exhibited around the town at a number of venues, such as Trowbridge Museum, the Library and John of Gaunt School.

As long as you live in Trowbridge and you're aged between 8 and 24, then you're eligible.

We'll give you a FREE disposable camera to take the photographs, and we'll pay for developing and printing.
The cameras will be issued on August 9th and must be returned to the museum by August 25th.
On August 9th we're running a FREE training session, led by Sally Cumberland, giving tips and advice on taking good photographs.

The deadline for those wishing to participate the deadline is 8th August.

If your interested in taking part contact Alex Smith at Trowbridge Museum on 01225 751339, or email her at alexs@trowbridge.gov.uk

For events and information on the museum go to www.trowbridgemuseum.co.uk

For information on Trowbridge Town Council go to
www.trowbridge.gov.uk

We would like to thank Clive's Cameras
for their support with this project

Clive's Cameras and Imaging Centre
21 The Shires
Trowbridge
BA14 8AT

This project was funded by Awards For All




We'll be back in the autumn with more art and craft activities

Don't forget to get your friends to subscribe to the newsletter - use the "forward to a friend" button

Trowbridge Museum, The Shires, Court Street, Trowbridge, BA14 8AT 01225751339 www.trowbridgemuseum.co.uk

If you would like to subscribe to the Museum Newsletter
please click here

These workshops are funded by Awards For All
©Trowbridge Museum July 2008. Our thanks to Trowbridge Museum for permission to use this article and photographs.
---
Trowbridge Youth Council's Annual Beach Party
On Saturday August 9th the Trowbridge Youth Council are hosting their Annual Beach Party in Trowbridge Park. The event runs from 10.00am - 4.00pm and features many activities. Don't forget your bucket and spade!
---
BLUEZ 'n'ZUZ Young People's Night Club
The local Neighbourhood Police Teams are continuing with their established regular BLUEZ 'n' ZUZ Night Club sessions for young people aged 12 – 16. The next event will be on Friday, 15th August from 7 - 9pm at the Snooker Club, Silver Street, Trowbridge. Entry is £2. Further events are planned and listed on the Wiltshire Police website. Click here for more details.
---
From our Chairman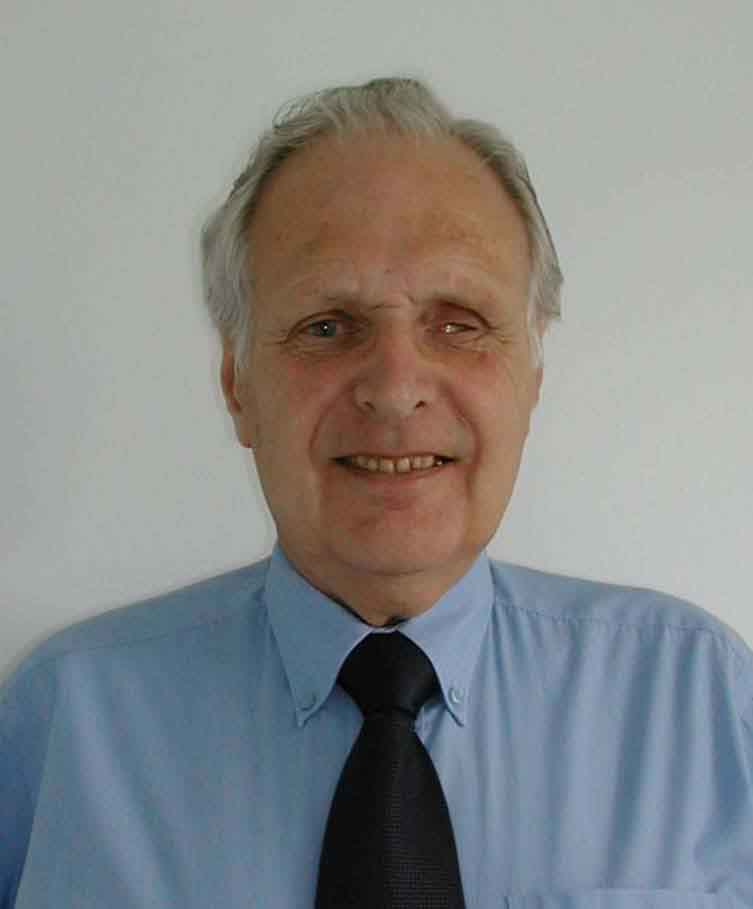 In April, I said that we were looking into the Hallmark scheme for Village Halls and Community Centres. This is basically an external audit conducted in three stages. The first stage is about "Charity administration and management". It consists of 44 items. To gain Hallmark 1, we would have to achieve all of 16 mandatory items, plus at least 15 others, giving an overall achievement of 70%. Some of the mandatory items seemed impossible for a newly registered charity to achieve, and so it was decided to defer application to join.
There are some financial benefits to the Centre being a registered charity, the most significant one concerning rates. For several years we have had 70% discretionary relief on rates. This has had to be met from local council tax. Once the Centre became a registered charity, it was immediately given 80% mandatory relief, paid from central funds not by local tax payers. We then applied for further discretionary relief, and were granted another 18%. Overall, this means that our payment has reduced from 30% to 2 % of nominal, and the local tax payers payment has reduced from 70% to 18% of nominal. Also, I expect that we shall no longer need to pay the climate change levy on fuel, and that the VAT we are charged on fuel and waste collection will be reduced from 17.5% to 5%. We have written to our suppliers for confirmation and adjustment.
We have always had an unsatisfactory situation with our gas supply. No-one has been able to say who has supplied our gas. All the suppliers to the area denied supplying us, and Transco(National Grid) could not tell us. No company was prepared to set up an account for us until we could tell them who was our current supplier, and so we have been using gas but not paying for it. Fresh efforts have been made, this time including Energywatch. For a while it seemed that Southern Electric might have been supplying us, but then they decided they hadn't. However, they have now agreed to set up an account for us, and this is planned to start early in August, thus regularising the situation. We had feared a large bill for our past usage, but that may not be the case. In some circumstances, supply companies can back-date for 6 years, but Energywatch tells me that since we never had a contract or a bill the statute of limitations prevents this, and there should be no back payment to make even if a supplier now came forward claiming to have supplied us in the past.
Whilst on the subject of gas, we are having difficulty finding some-one who will service our boilers. There are plenty of people around who do boilers in domestic situations, but we haven't been able to find some-one who is prepared to do them on business premises. If anyone can help, we would be pleased to hear from them.
Alison Noutch became our cleaner on 19th of May. She is settling in well, showing enthusiasm and initiative. I am sure she will be an asset to the Centre.
The AGM in May was poorly attended, but did result in an enlarged Management Committee. No-one resigned, but 2 new members, John Sheath and Paddy Reeves, joined us. We now have 12 members in all. The preparation for the AGM, the running of it, and actions immediately following it, were all done in line with Charity Commission requirements, now that the Centre is a registered charity.
There is a lot of re-decoration and maintenance work to be done. We have had exploratory discussions with the Probation Service, and it seems they can provide the labour for most of the re-decoration work. We are considering applying for a grant for some DDA work that needs doing. There are always maintenance jobs to be done, partly because of wear and tear , and partly because of the mindless vandalism that goes on. We have formed an informal sub-committee to co-ordinate all the necessary activity. Budgens management has donated a set of security cameras and recording equipment, and one of the sub-committee's jobs will be to decide how to make best use of these.
---
If you know of any events that would be of interest to the community, please drop me an email to – editor@paxcroftmead.org.uk.
Previous newsletters are available via the Paxcroft Mead Newsletter archive. To access the archive click here
---
| | |
| --- | --- |
| ©2008 Paxcroft Community Centre | |
| Registered Charity Number 1123423 | |
---