Contents

Click on the item to go to the article.

Editorial Comment

The Neighbourhood Police Team have sent us a copy of a crime report of a burglary that took place earlier this month. A salutatory tale, but nonetheless something we must all be vigilant about.

The new parking restrictions at Hackett Place are an unwelcome change. Let's hope the 3 month review decides it is not cost effective to implement the restrictions.

If you have a news item or event you would like to share in the next newsletter, please let me have your contribution by Wednesday 27th October and send via email to
editor@paxcroftmead.org.uk or post it to, or drop it in to:-
The Editor, Paxcroft Mead Community Centre, Hackett Place, Trowbridge, BA14 7GW.
Don't forget, our roving reporter is always available to help put a report together.
If you have some news, please let us know.

To ensure we have the largest possible distribution, please would you forward this newsletter on to friends and neighbours and encourage them sign up to the emailing list via our website -
http://www.paxcroftmead.org.uk/contact_form.asp
---
Parking restrictions at District Centre
The owner of the District Centre site, Attivo, has decided to implement parking restrictions in the District Centre car park.
The bays immediately in front of the Chip Shop and Chinese Take-Away will be limited to 20 minutes only. The remaining spaces in between the Community Centre and the shops will be restricted to 3 hours.
The scheme is being policed by UK Parking Control whose wardens will be conducting random patrols between the hours of 7am and 11pm, Monday to Sunday. They will ticket any vehicle remaining beyond the time limits.
We are told that the scheme will run for a three month trial period and will be reviewed after that.
---
Congratulations to The Mead Primary School who took first place in the Allotment/Vegetable Garden section of Trowbridge in Bloom this year.
The school also achieved 2nd place in the Scarecrow category.
---
24-year-old Paula Walker who lives in Paxcroft Mead, hopes to take another big step on the journey from reluctant bobsleigher to Olympic medal contender after being handed the chance to lead Great Britainís World Cup bid this winter.
Paula will step into the Great Britain 1 drive for the 2010-11 campaign after 2009 world champion Nicola Minichello was ruled out of the season with a knee injury.
For the full story, click here for the Wiltshire Times website
---
Neighbourhood Police Teams

As usual, our local Neighbourhood Police Teams continue to hold surgeries where members of the public can have an informal chat with a member of the NPT team.
The scheduled dates are as follows:
| | |
| --- | --- |
| 27/09/2010 - 15:00 | A member of the NPT will be available outside the Paxcroft Mead Community Centre, Hackett Place at 3pm to discuss local issues. |
| Street Visit 07/10/2010 - 18:00 | A member of your local Neighbourhood Policing Team will be available on foot patrol in Hilperton. Between 1800-1845 you will see a team member in the Towpath Road, Navigator Close and Tudor Drive area. A perfect opportunity for you to meet one of the team and bring up any issues that you may have in your local area. |
Current Priorities
We had 50 crimes in the rural area of which only 13 were in Hilperton. Of these only 5 were on Paxcroft Mead. 3 were shopliftings at Budgens and 2 were dwelling burglaries.
The Trowbridge area of Paxcroft only suffered a further 3 crimes, a Criminal damage and a crime of violence (both of which were domestic related) and a further Burglary.
These figures are very encouraging as the crime rate is way down, however, the 3 burglaries are a concern as all occurred on the same night (10/09). Below is the crime report relating to one of the burglaries (both the others had insecurities).
"Unknown male reached through catflap, unhooked several keys from peg by rear door. Unlocked house, carried out tidy search of all drawers and cupboards on ground floor. He took large TV from living room and was seen by occupant, loading it into occupant's car, parked on driveway. When occupant shouted, male ran off, leaving TV but taking various keys."
This is concerning for obvious reasons. Lets hope it is an isolated incident. We are of course increasing patrols on the estate as a consequence of the mini series.
SPEEDING - VILLAGES
The parish councils of West Ashton, North Bradley, Hilperton and Southwick have raised concerns about speeding on roads in their area and asked for police to increase both patrols and enforcement. The local beat team will lead campaign of speed enforcement with intention of reassuring the community.
---
I am sure that some Paxcroft Mead residents will have noticed the roadworks at the Fieldways roundabout. It seems that Persimmon Homes have started construction of the Hilperton Relief Road a.k.a. the Gap road. This road is a requiremnet to enable Persimmon to build the next major phase of Paxcroft Mead - a further 650 homes south of Green Lane. The various planning agreements also include the extension of Leapgate through to the West Ashton Road.
Planning permission for the extension of Leapgate has already been given as well as outline planning permission for 550 homes. This figure was later increased to 650 as Persimmon argued due to the number of 'affordable homes' they are obliged to build, the development would not be profitable.
According to Ernie Clarke's website, "Once commenced (the Gap road) it does not have to be finished until Persimmon decides to do so, or Persimmon has built approx. 300 houses on the East of Trowbridge development". He writes, "I have not been able to get an answer from Persimmon about exactly how much of the road they are intending to build at the moment".
It may be that Persimmon is preparing to start the new development, but it may also be the case that they have made a start on the Gap road, to ensure that planning permission doesn't lapse.
---
On Saturday, 25th September, the will be presenting the well known tribute band, Queen II.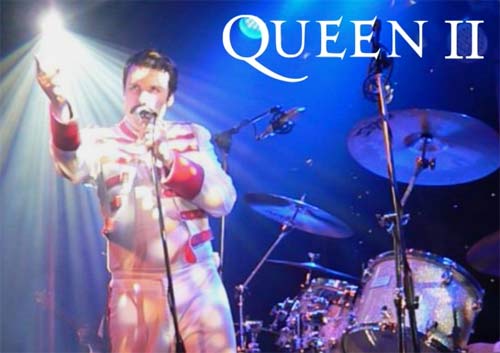 Queen II are the Queen tribute that provide a breath taking show at any venue! Performing a huge repertoire of hits from every decade of Queen's musical legacy! Formally known as 'A Night At The Opera'
Every show is packed with costume changes! Including that famous outfit from 'I Want To Break Free'! The show comes with a 5000 Watt P.A. system and a 6000 Watt light show.
All shows feature some of the UK's finest professional musicians using authentic instruments and equipment, including the 'red special' guitar and silver sparkle 'Roger Taylor style' drum kit!
Ticket prices are £7 per ticket for Members and their guests. Non-Members £11
---
The Paxcroft Mead Community Forum will be holding a Coffee Morning on Saturday, 9th October from 10:30am until 1pm at the Community Centre.
The morning will provide an opportunity for members to register any ideas or concerns, to have a chat with committee members and for new members to sign up.
There will also be various displays covering our projects and it is hoped that Trowbridge Fair Trade group will be present too.
---
---
The Annual Trowbridge Carnival procession will take place on Saturday, 23rd October.
The Carnival Procession starts at 7pm from Canal Road and runs along the Down, Islington, Timbrell Street, Union Street, Church Street, Silver Street, Market Street, Castle Street and finishes at Cradle Bridge just before the big Longfield roundabout.
Later in the year than previous events, this year's procession aims to be bigger and better than before. The darker nights should give a more spectacular display. Come along and join in the fun!
There will be a charity collection along the way.
More details will be added as they are published.
Maryrose Mantle, the Carnival Committee Chair is still looking for helpers to act as marshalls and to collect the charity donations. If you would like to help out, you can contact Maryrose by email at maryrose.mantle@trowbridge.gov.uk or give her a call on 07866 698278.
---

We have reorganised our autumn/winter History Days and added some to the list. The sessions cost £3.00 or £2.50 for Stumpy Members and run from 10.30 - 12.00. places are limited so call us on 01225 751339 or email education@trowbridge.gov.uk to book a place. There will be a linked craft workshop on Saturday afternoons as well, costing £1.50.
Full details of all the workshops later in the year.
Saturday 25th September - Victorian Toys and Games As well as finding out about the games our ancestors used to play we will be making a classic Victorian toy.
The workshop runs from 10.30 to 12.00 and costs £3, or only £2.50 to Stumpy Club Members. Suitable for ages 8+, or clever little younger ones.
Reserve your place by calling 01225 751339 or email education@trowbridge.gov.uk.
For our afternoon craft session we are going to be very adventurous. It's Ship Ahoy!, as we make toy yachts - a classic Victorian toy. Quite a challenge for us to work out how to do it, but nice and easy(ish) for you. Cost as usual is £1.50 and the workshop runs from 1.30 to 3pm, and it should suit ages 5+, under 8s must be accompanied by an adult. Don't forget to book!
Saturday 9th October - Famous Victorians
Who they were, what they did, why they did it.
Saturday 23rd October - Edwardian Life
Find out how they lived and dress up in Edwardian Clothes
Saturday 13th November - World War 2
Dress in 1950s clothes, learn about POW and spectacular Spitfires.
Saturday 27th November - The Swinging 60s
The clothes, flower power, the space race and more!
Saturday 4th December - Christmas
The what, when, why and wherefore of Christmas
---
20 Terrific Years of Trowbridge Museum...
Still running is an exhibition that features the first 20 years of Trowbridge Musueum. Experience the highlights of some of the many fantastic exhibitions we've held over the last twenty years and see photos of our early beginnings and staff old and new...
'Dancing Days' exhibition
'Dancing Days' exhibition opens on Saturday 23rd October at 12.00 noon with live sax music from Saxology and belly dancing demonstrations with Wafaa Powell
---
The Trowbridge Walking Forum walks are designed to provide gentle and sociable exercise and are suitable for all ages and abilities.
Wednesday walks are approximately 2 to 3 miles and there is usually a choice of an easy, level walk and one that may include fields and stiles. On Mondays, walks alternate between a longer route of 4 to 5 miles with stiles and some hills, and shorter walks of less that 1½ miles that are mostly on paved paths.
The programme for October 2010 is shown below:


Day
Date
Type
Route Options
Starting Point
Grade
Wed
1-Sep
Moderate walk
White Row Farm, Beckington
Park in road outside White Row Farm. Road leads off of A36 Beckington Roundabout
E S
2½m
Mon
6-Sep
Longer walk
Poulshot towards Potterne

Park off the edge of the track on the left just past "the Raven"

S M P
3½ m
Wed
16-June
Moderate walk
Rode and Tellisford

Vaggs Hill, off the Wingfield to Rode road

E
2½m
Mon
13-Sep
Short walk
White Horse business park followed by BBQ at Silver Street Lane
B & Q car park, Bradley Road, Trowbridge
E
2m
Wed
15-Sep
Moderate walk
Seend canal walk

Three Magpies, Sells Green

P M S
4m
Mon
20-Sep
Longer walk
Keevil to Bulkington

Keevil, by the church

S M
4.8m
Wed
20-Sep
Moderate walk
Westwood to Farleigh Hungerford
Westwood Manor NT Car park
S M H
3.4m
Mon
27-Sep
Short walk
Paxcroft Mead

Budgens Car park, Paxcroft Mead

E
1½m
Wed
29-Sep
Moderate walk
Holt and Chalfield

Village Hall CP, Holt

S M
3.1 m
Mon
4-Oct
Longer Walk
Bishops Cannings

Park in the layby outside the school, or nearby

S M
5½m
Wed
6-Oct
Moderate walk
Keevil to Steeple Ashton

Keevil, by the church

E
3m
Mon
11-Oct
Short walk
Seend
Village Hall, Rusty Lane, Seend
E
1½m
Wed
13-Oct
Moderate walk
Poulshot to Worton

Park outside the Village Hall on the south side of the common

S M P
3.6m
Mon
18-Oct
Longer walk
Semington, Whaddon Lane and Canal

By tennis courts in St Georges Road, Semington

E M
4m
Wed
20-Oct
Moderate walk
Bradford on Avon, Rowden Lane and Canal

Canal Car Park (down Baileys Barn, off Moulton Drive, next to canal bridge near Sainsburys)

S M s/c
3m
Mon
25-Oct
Short walk
Barton Farm Country Park
Canal Car Park (in Baileys Barn, off Moulton Dr, near Sainsburys)
E
1½m
Mon
27-Oct
Longer walk
Westwood to Avoncliff
Westwood Manor NT Car park
S M H
3½m
Mon
1-Nov
Longer walk
Poulshot & Caen Hill

Park outside the Village Hall on the south side of the common

S M P
5.1m
Walks start at 10:30AM
Bus timetables are at www.traveline.org.uk
Short Walks: approx 45 mins, no stiles, mostly paved paths.
Moderate Walks: approx 60 to 75 mins, mostly field paths, usually stiles.
Longer Walks: up to 2 hours, stiles, some hills.
Key: E: Easy walking. H: Moderate hills. S: Stiles. M: Can be muddy. P: Pub lunch possible. s/c: shorter route possible.
For more information visit
http://sites.google.com/site/trowbridgewf/
or contact Alan & Anne on 01225 760492, David on 01225 755639, Mike on 01225 766668 or Pat & Charles on 01225 753735.
---