Contents

Click on the item to go to the article.

Editorial Comment

It's hard to believe - half term is over and we are on the way to Christmas. Before we get there though, we have a few autumnal events suitable for all ages.

In the next edition I hope to have news of Christmas activities in and around Paxcroft Mead as well as the various special church events for Christmas. Despite all the doom and gloom, it is interesting that companies like Fabric Magic and Past Times are opening special shops for Christmas in Trowbridge. Another reason to do your Christmas shopping in Trowbridge and support our local traders!

If you have a news item or event you would like to share in the next newsletter, please let me have your contribution by Thursday 25th November and send via email to
editor@paxcroftmead.org.uk or post it to, or drop it in to:-
The Editor, Paxcroft Mead Community Centre, Hackett Place, Trowbridge, BA14 7GW.
Don't forget, our roving reporter is always available to help put a report together.
If you have some news, please let us know.

To ensure we have the largest possible distribution, please would you forward this newsletter on to friends and neighbours and encourage them sign up to the emailing list via our website -
http://www.paxcroftmead.org.uk/contact_form.asp
---
Tumble Tots Fund Raiser Success
On Friday 15th October the children attending Tumble Tots at Paxcroft Mead took part in a Peppa Pig themed Countathon in aid of Tommy's.
During the classes they enjoyed a special circuit where each activity station had a story to follow with the children pretending to collect twigs (lummi sticks), find treasure (Bean Bags), jump in puddles (hoops) and going on a trip to the moon with Peppa Pig whilst playing with the co-ordination equipment. Counting activities took place during each class and through songs and rhymes.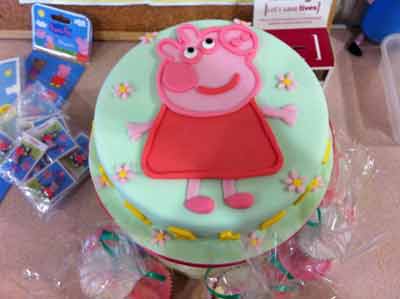 A parent made a Peppa Pig cake which was raffled and bags of pink cakes to sell.
A total of £245 was raised throughout the week through the sale of pin badges, a sweepstake, raffle and cake sale, the final fund raising total will not be known until all the sponsor money is in at the end of November.
To find out more about Tumble Tots @ Paxcroft Mead please call Debbie Bensley on 01225 811579 email debbie.bensley@gmail.com
---
A reminder about Parking restrictions at District Centre
Following an appeal by the Community Centre Management Committee to Attivo, the owners of the District Centre car park, it has been agreed that the area next to the Community Centre will not be subject to the new parking restrictions (around the recycling point).
The scheme is being policed by UK Parking Control whose wardens will be conducting random patrols between the hours of 7am and 11pm, Monday to Sunday. They will ticket any vehicle remaining beyond the time limits - 20 minutes in front of the takeaway outlets and 3 hours in front of the Community Centre.
---
New Pub for Paxcroft Mead - when?
Most residents will have noticed that work on the new Pub stopped a while ago. There have been various rumours about the reason for the halt, but according to Ernie Clark's website Marston Inns say, "The only reason that work has stopped at the pub is due to 'final issues to negotiate with the WC highways department'. This is because some of Hackett Place has now been adopted by Wiltshire Council. The opening date is now late spring/early summer 2011."
---
Neighbourhood Police Teams

Current Priorities
According to the Wiltshire Police website, the current priorities in the Trowbridge Rural and Adcroft and Paxcroft NPT areas haven't changed and do not highlight anything directly involved with Paxcroft Mead. The current priorities close to us are:–
DRUGS - SEYMOUR ESTATE
Following high levels of reports of drug dealing the area has been targeted and two arrests have now been made. Offenders are currently on bail. Since the arrests, reports have been significantly reduced.
ANTI SOCIAL BEHAVIOUR - TROWBRIDGE HOSPITAL
Regular patrols have been carried out to prevent youths gathering and causing problems. There have been no further reports of anti-social behaviour in the past month.
SPEEDING - VILLAGES
The parish councils of West Ashton, North Bradley, Hilperton and Southwick have raised concerns about speeding on roads in their area and asked for police to increase both patrols and enforcement. The local beat team will lead campaign of speed enforcement with intention of reassuring the community.
BONFIRE NIGHT ADVICE
We understand that fireworks are a traditional part of Bonfire Night celebrations, but they are dangerous explosives and cause many serious accidents every year. Please read our advice below and remember the safest way to enjoy them is to go to a professionally organised event.
It is illegal to sell fireworks to anyone under 18 years of age if caught the maximum penalty is £5000 and/or six months on prison
It is illegal to set off fireworks between 11pm and 7am, on Bonfire night this is extended until Midnight
It is illegal for a member of the public to possess a 'display' style firework (Category 4 fireworks can only be used by professionals
It is illegal to let off fireworks in a public place and this carries a fine of up to £5000. Police may also issue an £80 Fixed Penalty Notice
All fireworks sold to the public must comply with British Safety Standard BS 7114
It is illegal to sell bangers, mini rockets, fireworks that fly erratically (Squibs, helicopters, etc), aerial shells and maroons
Fireworks can only be stored for private use for up to 14 days, subject to them being stored in a safe place
It is illegal to cause unnecessary suffering to animals with fireworks. The maximum penalty £5000 and/or six months in prison
---
Community Forum Coffee Morning
Thank you to everyone who took the time to drop by at the Forum Coffee Morning at the Community Centre. It was really good to see so many people and get the BMX Track Consultation off to a flying start. Members of the local Neighbourhood Police Team were on hand all morning and local councillor Ernie Clark was also in attendance (Steve Oldrieve sent his apologies).
Green-fingered forum members appreciated our collection of home-grown perennials and the last minute raffle was a great success, with a good selection of attractive prizes generously donated by the local shops and businesses. You can see a full list of prizes and winners by clicking here. We were also grateful to Budgens, for their help with catering supplies and for the generous donation of carrier bags for the plant stall.
---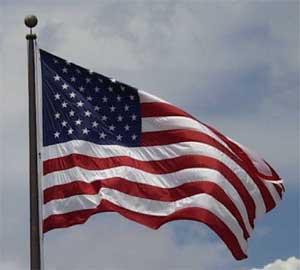 I'm back with apologies for missing the last few news letters. I have no real excuse. It is just our lives are busy and it seems that the deadline comes and goes before I remember that it is time to submit something. I'll try to do better.
Tuesday, November 2 is election day in the United States. It is only two years into Barack Obama's term as president so we are not electing a president. We are however electing all 435 members of the House of Representatives and about one third of the Senate. These two bodies make up our Federal Congress. The results of this election will determine which political party (Republican of Democrat) will control one or both houses. There is a great of anger at government currently with a strong vote out the incumbents sentiment. It will be interesting to see if the voters maintain this anger when they actually enter the voting booth. There also elections for Governor in many states including my state of New York. We are also electing all the members of the New York State Legislature. Many local offices are also being contested this year. I will be up late the night of Election Day awaiting the returns.
Susan and I continue to be very busy within our community. We both continue with our volunteer work in several local organizations. In the two years or so that we have been part of our town we have gotten to know many of our fellow community members. That is what we love about small town living. We get a great deal of satisfaction from being able to "give something back". Of course, Susan also continues to be very busy with her job at the American Red Cross. She is involved every day with helping people to really do need some assistance as a result of some personal disaster such as a house fire or other circumstance.
Susan and I have just returned from a three week vacation (holiday). Out of the 21 days we were away we had 19 days of absolutely gorgeous fall (autumn) weather. We travelled through Ontario, Michigan, Chicago, Wisconsin, Minnesota and Toronto and went 2745 miles in total. The trees were in full fall color and very beautiful. We enjoyed all of our trip but Chicago was certainly one of the highlights. Neither of us had been there before and we fell in love with that city. It is definitely on our list of places to return to when we can. We had nice boat trips on the Chicago, Wisconsin and Mississippi rivers. Susan very much needed this break as she had been working extra hard since last January.
Rather than try to pick out two or three pictures from the several hundred we took on our trip, I have included the links below. Even if you are not on Face Book you should be able to access them. And don't worry, it is only a sample ot all the hundreds we took.
http://www.facebook.com/album.php?aid=2090154&id=1414014643&l=10cfa400b3
http://www.facebook.com/album.php?aid=2090402&id=1414014643&l=75b085d9c3
http://www.facebook.com/album.php?aid=2091009&id=1414014643&l=559449af65
Hello to all who remember us and best wishes to every one.
---
Trowbridge
The main Trowbridge Firework display, organised by the Round Table, will be held on November 5th at the Greenhill Car Boot Sale site in Bradley Road Southwick from 5pm until 10pm. The entertainment starts at 6 pm and fireworks at 7pm.
Tickets are available in advance from Scholars, Howard Travel and John Cadby Jewellers at £4 for a single ticket or £10 for a Family ticket. On the night, the gate prices will be £5 for a single ticket or £15 for a Family ticket.
Bradford on Avon
The main Bradford Firework display, which raises money for the town's three schools will be held on Saturday November 6th at the Beehive Field in Trowbridge Road from 5.30pm. Live music starts at 6pm. Advance tickets, available from the Bradford schools, the Co-op and Scallywags cost £5 for Adults or £2.50 for children (aged 5-17)
On the night, the gate prices will be £6 for Adults and £3 for children.
---
The Gwent Police Choir will be in Concert at the United Church on Saturday, 13th November at 7.30pm. The concert is in aid of Rotary Charities. Tickets are available at £8.50 from Howard Travel (Church Walk) and the Tourist Information Centre in Trowbridge.
---
On Remembrance Sunday, 14th November at 10.30am, the Kingfisher Church will be holding a service at The Mead Primary School. The Revd. Allan Coutts will be conducting this family-friendly service which is suitable for all ages.
Refreshments are served after the service. Everyone is welcome.
Nearer to Christmas there will be Carol singing with the Impax youth group outside Budgens - Saturday 18th December at lunch time.
On Sunday 19th December a Community Carol Singing service will be held at the Mead Primary School, commencing at 10.30am. The theme is 'Christmas Past, Christmas present, Christmas future.' This is a 'Family-friendly' service for all ages. Everyone is welcome.
---
The switching on of the Trowbridge Christmas Lights takes place on Saturday, 4th December at 6:30pm in Fore Street. There will be stalls, music, entertainment all day with hopefully, shops persuaded to open late. More details to follow.
---
'Dancing Days' exhibition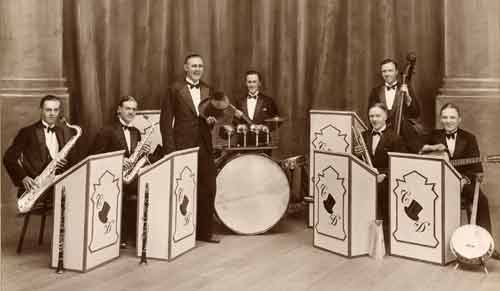 Building upon the success of the Thrive event in May this year, Museum staff will be putting on the exhibition celebrating dance and with a distinctly Trowbridge slant.
Themes will include: music, multicultural Trowbridge, dance etiquette, costume, dance venues and dance in Trowbridge today. There will be children's interactives too.
"It is a fascinating exhibition, very vibrant and colourful" says Museum Curator Clare Lyall.
The Dancing Days exhibition runs until Saturday 5th March 2011.
---

We have reorganised our autumn/winter History Days and added some to the list.
The sessions cost £3.00 or £2.50 for Stumpy Members and run from 10.30 - 12.00. Places are limited so call us on 01225 751339 or email education@trowbridge.gov.uk to book a place. There will be a linked craft workshop on Saturday afternoons as well, costing £1.50.
Full details of all the workshops later in the year.
Saturday 13th November - World War 2
Dress in 1950s clothes, learn about POW and spectacular Spitfires.
The afternoon craft workshop will be making a gas mask and case.
Saturday 27th November - The Swinging 60s
The clothes, flower power, the space race and more!
The afternoon craft workshop will be making a space race rocket.
Saturday 4th December - Christmas
The what, when, why and wherefore of Christmas
The afternoon craft workshop will be making Christmas decorations.
---
The Trowbridge Walking Forum walks are designed to provide gentle and sociable exercise and are suitable for all ages and abilities.
Wednesday walks are approximately 2 to 3 miles and there is usually a choice of an easy, level walk and one that may include fields and stiles. On Mondays, walks alternate between a longer route of 4 to 5 miles with stiles and some hills, and shorter walks of less that 1½ miles that are mostly on paved paths.
The programme for November 2010 is shown below:


Day
Date
Type
Route Options
Starting Point
Grade
Mon
1-Nov
Longer walk
Poulshot & Caen Hill

Park outside the Village Hall on the south side of the common

S M P
5.1m
Wed
3-Nov
Moderate walk
St Margarets and Canal

Canal Car Park (down Baileys Barn, off Moulton Drive, next to canal bridge near Sainsburys)

S M
4m
Mon
8-Nov
Short walk
Broadmead

Studley Green Community Hall

E S
1½m
Wed
10-Nov
Moderate Walk
Broughton Gifford and Chalfield

Near The Bell on the Common, Broughton Gifford

S M
2½m
Mon
15-Nov
Longer walk
Westwood to Wingfield
Westwood Manor NT Car park
S M
4½m
Wed
17-Nov
Moderate walk
Beckington and Orchardleigh

Park on street near The Woolpack, Beckington

S M
3½m
Mon
22-Nov
Short walk
Southwick Country Park

Southwick Country Park CP

E
1½m
Wed
24-Nov
Moderate walk
White Row Farm, Beckington
Park in road outside White Row Farm. Road leads off of A36 Beckington Roundabout
E S
2½m
Mon
29-Nov
Longer walk
Poulshot towards Potterne

Park off the edge of the track on the left just past "the Raven"

S M P
3½ m
Wed
1-Dec
Moderate walk
Rode and Tellisford

Vaggs Hill, off the Wingfield to Rode road

E
2½m
Mon
6-Dec
Short walk
White Horse business park followed by mince pies and mulled wine at at Silver Street Lane
B & Q car park, Bradley Road, Trowbridge
E
2m
Wed
8-Dec
NO WALK
TWF Christmas Lunch
Trowbridge College
Walks start at 10:30AM
Bus timetables are at www.traveline.org.uk
Short Walks: approx 45 mins, no stiles, mostly paved paths.
Moderate Walks: approx 60 to 75 mins, mostly field paths, usually stiles.
Longer Walks: up to 2 hours, stiles, some hills.
Key: E: Easy walking. H: Moderate hills. S: Stiles. M: Can be muddy. P: Pub lunch possible. s/c: shorter route possible.
For more information visit
http://sites.google.com/site/trowbridgewf/
or contact Alan & Anne on 01225 760492, David on 01225 755639, Mike on 01225 766668 or Pat & Charles on 01225 753735.
---